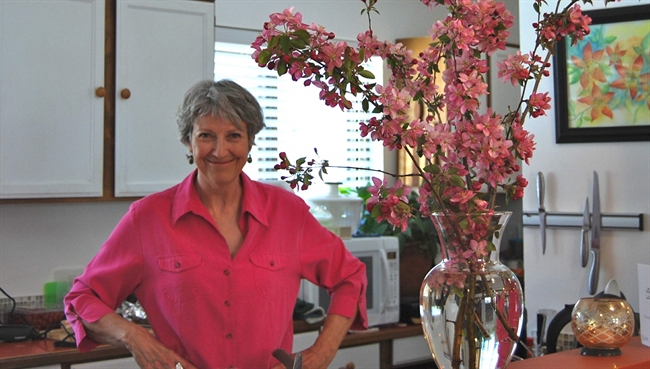 Eleanor 

"Georgi" Marquisee
As a child, Georgi imagined herself in the far-off places she read about in her neighbor's National Geographic magazines. Throughout her life this fascination has drawn her along a path of involvement with other cultures. Georgi served on the boards of Delaware Council for International Visitors and People to People, Delaware, also acting as co-president, and participated in the International Council of Delaware.  She and Mark hosted dozens of international visitors and students through the years.
For more than 30 years Georgi has served as President of Arden Media, a media production company with clients ranging from Sesame Street and American Montessori Society, to the EPA, Mitsubishi and the DuPont Company.
In the 1990's, combining her interest in education and culture, Georgi conceived of the framework for a video series for children documenting family life in other countries, and she and husband Mark began to develop "Families of the World".  The series, covering more than 60 families in two-dozen countries and counting, has garnered more than a hundred awards and endorsements from educational and parental organizations.
Before joining Arden, Georgi taught art in a public school near the Canadian border, did art therapy at a residential treatment center for emotionally disturbed children and was appointed Justice of the Peace/Magistrate for the State of Delaware.
A founding member of Wilmington Women in Business, Georgi served on the Federal Reserve Bank's Small Business and Agricultural Advisory Board and Wilmington's Urban Environmental Center.  She received the 'Strong, Smart, Bold' award (formerly 'She Knows Where She's Going') from Girls Inc. of Delaware, the Women of Distinction award from Chesapeake Bay Girl Scout Council, and was recognized as an Outstanding Alumnus by the College of St. Benedict.
Georgi earned her BA in art from College of St. Benedict in St. Joseph, Minnesota, serving as Class President in her freshman and junior years. She earned an MS in psychiatric art therapy from Hahnemann Medical College (now Drexel University) Philadelphia, Pennsylvania. She has been a featured graduate of both schools, and several of her paintings are in the permanent collection of College of St. Benedict.